This object is very small and it took me a while to find it in the original NASA Mars Reconnaissance Orbiter HiRISE images.
After downloading all the files and analysing each I found it impossible to find. It is visible in the high resolution JP2 image file though.
Case #8: Rectangular object leaving track on Martian surface:
Upon analysis of the area in the image concerned you will note a track in the Martian sand forming an arc. NASA claims this was caused by a rock rolling down an apparent slope. Even if this is a slope it looks rather flat and I find it hard to believe the rock would leave a track in a form of an arc, perhaps a straight line would be more plausible.
Two rather puzzling tracks, parallel to each other, can also be seen a bit further up in the image. These tracks appear to be straight and consist of rectangular impressions in the Martian sand, spaced at regular intervals apart.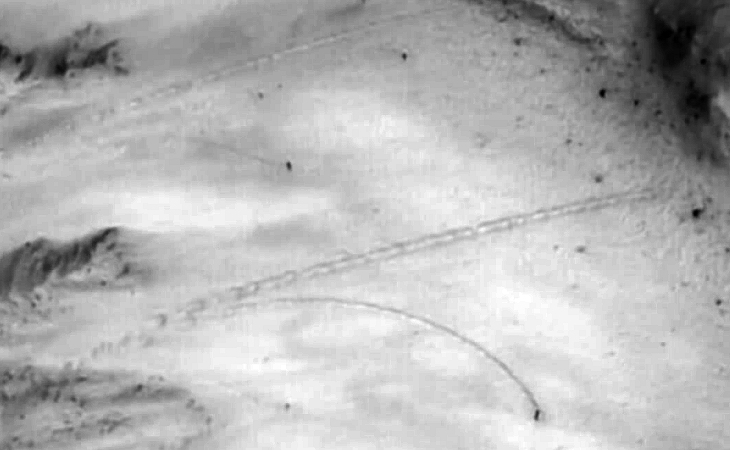 The rectangular object and its track in the sand are too small to view in the regular JPEG files. I recommend downloading the high resolution JP2 image file instead. It is a sizable download (325 MBytes) but well worth it.
To view it and other file formats from NASA such as .JP2 download and install HiView which is a free image viewer provided by NASA.
Download HiView: https://www.uahirise.org/hiview/ (for all operating systems)
Download HiView: HiView-1.5.0-WIN-i686.exe (for Windows XP – local download)
Original NASA source: https://hirise.lpl.arizona.edu/PSP_001415_1875
Is this a rock that rolled down a slope or a craft roaming the Martian surface?