This image was taken by NASA's Mars Reconnaissance Orbiter (MRO) HiRISE Camera on 10 December 2006 at 15:41 Local Mars time.
NASA describes this as an image as "Evidence for Water and Wind Processes in Gale Crater."
I discovered what look like Puebloan city ruins on Mars. There are at least six city remnants located to the North in Gale Crater.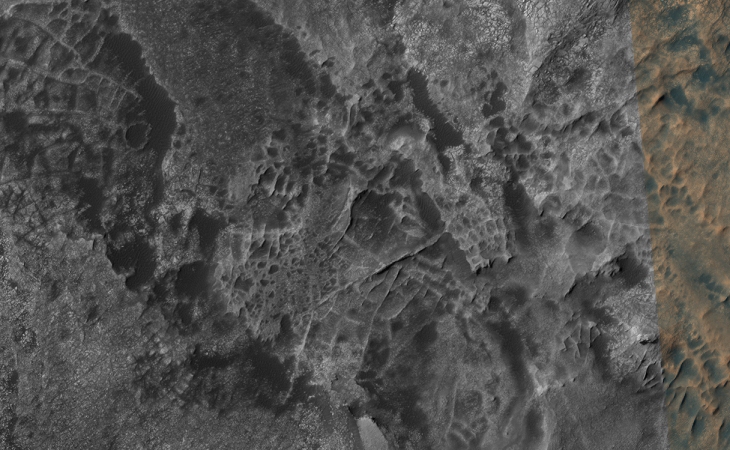 Comparisons between the ruins found at Gale Crater and those found in Chaco Canyon, New Mexico show similar geometry and construction layout.
A team from NASA and University of Nebraska-Lincoln recently got together to chart the "evidence of indigenous landscapes" in the Chaco Canyon region.
Has NASA found a link between the two civilisations that built these cities in the distant past? Is there perhaps an "Ancient Aliens" connection?
Oddly, I also found what looks like a giant megalith and some broken stone artefacts in this NASA image.
Original NASA source: https://hirise.lpl.arizona.edu/PSP_001752_1750
To view these anomalies clearly download one of the .JP2 file. I downloaded the Merged RGB map-projected image which is 228 MBytes.
Download HiView: https://www.uahirise.org/hiview/ (for all operating systems)
Download HiView: HiView-1.5.0-WIN-i686.exe (for Windows XP – local download)
Original University of Nebraska-Lincoln source: https://news.unl.edu/newsrooms/today/article/nebraska-nasa-team-up-to-chart-evidence-of-indigenous-landscapes/
Wikipedia source: https://en.wikipedia.org/wiki/Pueblo_Bonito
Is this another possible link between Earth and Mars civilisations?
We might have more in common with Mars than we thought!
Subscribe to my YouTube channel and turn on notifications to be notified when new videos are uploaded.
Also visit Twitter page @RaptorZN_.