A Saturn Ark and RaptorZone Collaboration
This is a collaborative work between Saturn Ark and RaptorZone in which more anomalies and artefacts are presented.
The photographs analyzed here (D04_028911_0985_XN_81S064W and ESP_021526_0985) were taken by NASA's Mars Reconnaissance Orbiter (MRO) CTX and HiRISE Cameras on 26 September 2012 and 28 February 2011 respectively. NASA describes the photographs as "Ride-along with HiRISE" and "Monitoring Defrosting Patterns on Inca City Ridges" respectively.
Discovered recently, this really interesting area located near the South Pole of Mars in an area called Angustus Labyrinthus, seems to show what looks like rectangular walled structures and/or perhaps some type of large-scale farming of some kind.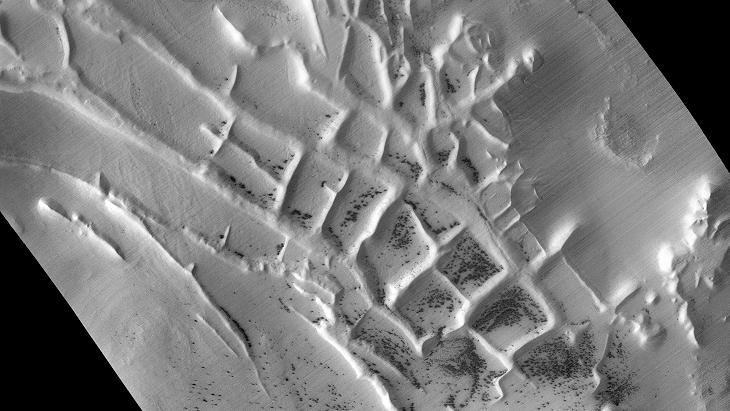 The walls, approximately 100 m thick, form square shapes with very straight sides measuring 3 km in length; highly unusual thus the speculation that these may be artificial and may be evidence of intelligent design. Furthermore we can only speculate whether these are ancient or modern structures as they are partially covered.
Could these be remnants of an ancient structure/building, retaining walls used in some kind of large scale farming? The walled off area's remind me of rice fields/farming as found here on Earth.
Taking a look at this area in Google Earth Mars shows NASA photographed this specific feature many times. What were they looking for? Just monitoring the dark spots to see who they change over time, after all NASA does describe the HiRISE photograph analysed here as "… Inca City Ridges."
This anomaly also reminds me of similar geometrically-shaped 'dunes' I found in another area of Mars in an area called Schiaparelli approximately 5100 km away:
Also, I previously featured what NASA calls an 'Inca City' on Mars showing what looks like structures and terraces buried in sand located approximately 13 km to the North-West:
High-Resolution Images:
The following images were cropped from the HiRISE JP2 (ESP_021526_0985):
Original NASA sources:
MRO CTX Photograph: http://viewer.mars.asu.edu/planetview/inst/ctx/D04_028911_0985_XN_81S064W
MRO HiRISE Photograph: https://www.uahirise.org/ESP_021526_0985
My YouTube video featuring this strange anomaly:
Additional information:
My previous Blog Post featuring a similar rectangular-shaped anomaly: http://mars.raptorzone.co.za/2018/04/09/massive-structures-and-small-craft-found-on-mars/
My previous video featuring a similar rectangular-shaped anomaly:
My previous Blog Post featuring a similar 'Inca City' anomaly: http://mars.raptorzone.co.za/2018/03/03/nasa-calls-this-an-inca-city-on-mars/
My previous video featuring a similar 'Inca City' anomaly:
Subscribe to my YouTube channel and turn on notifications to be notified when new videos are uploaded.
Also visit Twitter page @RaptorZN_.
Disclaimer:
Images saved from within HiView or CTX viewer do not include image scale indicators. The image scale indicators I include in images are based on the official resolutions provided by NASA and although I strive to be as accurate as possible there may be slight deviations from the actual scale. Image scale indicators are included as a size approximation tool only.
Ley lines are mapped as accurately as possible using the limited information, data and mapping tools available at the time, therefore the ley lines may deviate from target sites by a few kilometres. Revisions may be made in the future as new, more precise information, data and mapping tools become available.
Many or all of the anomalies/artefacts covered in this presentation may be naturally occurring geological features caused by some type of geological processes, however due to the lack of specific information from the source we can only speculate whether these are all natural or some artificial in nature.
In cases where I say an anomaly looks like something I'm attempting to clarify what I see and not specifically that the anomaly is what I say it looks like.
My intention is only to share anomalies I've discovered on Mars and not to convince anyone that there is or was a civilization on Mars.
As Will Farrar from WhatsUpInTheSky says: "I see what I see, you see what you see."