In this video I include my enhanced video and audio of 1995 Nellis Range UFO footage that was leaked in the 90's.
I've reduced the noise by 12 dB, decreased the video brightness and increased the contrast.
Background
Initial release of the leaked video
Radar and camera footage of the 1995 Nellis Range UFO incident is
leaked to Hard Copy and Sightings TV shows. Short segments were first
publicly shown by Hard Copy on 17 February 1995 followed Sightings
with additional footage on 10 December 1995.
Research by various people
Susan Michaels (Sightings: UFOs), Martin Powell and David Rudiak
conduct their own research into the incident and bring forward information like transcripts, locations and bearings as featured in the video (the original video has very poor audio and video quality).
David Rudiak's research is very comprehensive and is available online.
His website includes discussions, animations, photographs and other
research.

Findings
A radar operator spots the craft and starts tracking it with radar and on camera (possibly FLIR).
Initially the craft seems to hover at an elevation of approx. 300 metres over the Nellis Range.
The craft speeds up (average speed of approx. 1000 km/h) and rapidly
ascends to an elevation of approx. 3000 meters.
The craft is approx. 9m tall and approx. 12m wide.
Electrogravitic lobes seem to form around the craft, similar to the fields Thomas Townsend Brown was able to produced around discs he
experimented with.
Transcripts
Due to the poor audio quality researchers tried their best to transcribe what is being said in the video footage.
Transcripts from the S-13 footage
Transcripts from the S-30 footage
A look at the incident in Google Earth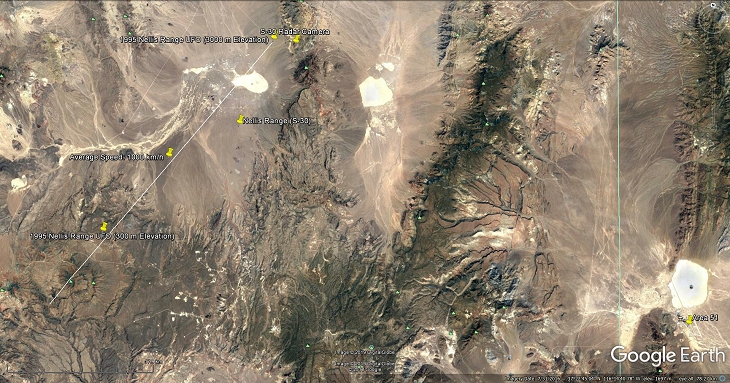 My video enhancements
The original leaked video of the incident has very poor audio and video quality. Here I attempt to significantly reduce the noise in the audio as well as enhance the video by reducing the brightness, boosting the contrast and sharpening the image.
My Conclusion
It appears a camera was used to record the original footage from a TV screen.
Due to the erratic movements and random changes in speed, the craft, likely terrestrial in nature, seemed to have experienced technical difficulties. Perhaps it was out of control and should not have been visible for as long as it was.
You can hear from their voices, the radar operators are genuinely surprised and almost anxious at the appearance of the craft. They have no clue what they were dealing with.
The original footage needs to be tracked down and made public.
Original sources:
https://en.wikipedia.org/wiki/Thomas_Townsend_Brown
http://roswellproof.homestead.com/Nellis_Main.html
http://roswellproof.homestead.com/Nellis_S13_transcripts.html
http://roswellproof.homestead.com/Nellis_S30_transcripts.html
My YouTube video featuring 'The 1995 Nellis Range S-13/S-30 UFO Incident (Enhanced Video and Audio):'
Subscribe to my YouTube channel and turn on Notifications to receive updates when I upload new video's.
If you were witness to the incident/s or have additional information please DM me via my Twitter or Facebook accounts.
Links to all my other sites:
https://www.youtube.com/JeanWard (Mars anomalies)
http://mars.raptorzone.co.za (Mars anomalies)
http://www.raptorzone.co.za (my website)
http://wxsat.raptorzone.co.za (weather satellites)
https://twitter.com/raptorzn_ (@RaptorZN_)
https://www.facebook.com/JeanWardMarsAnomalies (Facebook)
http://blog.raptorzone.co.za (social and political issues)
Disclaimer:
FAIR USE NOTICE: This page might contain copyrighted material, the use of which has not specifically been authorized by the copyright owner/s. RaptorZone Mars Anomalies distributes this material for the purpose of news reporting, educational research, comment and criticism, constituting Fair Use under 17 U.S.C § 107. Please contact RaptorZone Mars Anomalies with any copyright issue/s.