This image was taken by Rear Hazcam: Left B (RHAZ_LEFT_B) onboard NASA's Mars rover Curiosity on Sol 862.
What makes this image interesting is the black triangular object seen to the left, just above the Martian horizon.
Case #7: Black triangular object photographed on Mars horizon:
Some anomaly hunters describe this object as looking like a helicopter viewed side on. In my opinion it looks more like a black triangle viewed slightly from below and side on. Could this be yet another TR-3B?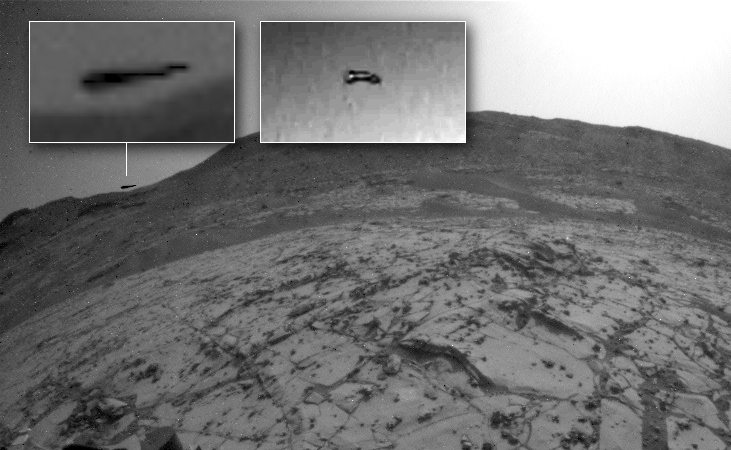 Secret Space Program whistleblower Corey Goode has recently revealed the existence of a craft called "The Wedge" which is used by the Dark Fleet to conduct offensive operations.
It is well known that one of the Curiosity Rovers Hazcam's produce an artefact due to damage suffered early on in the rover's mission. The black triangular object seen in this image (middle, left) does not appear to resemble the shape of the known rover camera artefact (on the right).
Whistleblowers have testified that the TR-3B has been to Mars and that this craft can make the trip from Earth to Mars in a matter of hours or even less, some speculate the craft can reach Mars in 38 minutes.
Original NASA source: https://mars.nasa.gov/msl/multimedia/raw/?rawid=RLB_474027947EDR_F0442958RHAZ00311M_
Is this yet another TR-3B or the Dark Fleet 'Wedge' captured in a NASA image on Mars?
Most importantly, what is any form of object, besides dust particles, doing in the Martian atmosphere?
Subscribe to my YouTube channel and turn on notifications to be notified when new videos are uploaded.
Also visit Twitter page @RaptorZN_.