The first two photographs we are looking at were taken by Rover Curiosity on Sol 688 and Sol 2438 respectively.
In both we see an anomaly in the Martian atmosphere which looks like a 'Tic-Tac'-shaped UAP as the one featured in the AATIP/TTSA encounter between a Navy FA/18 Super Hornet and a 'Tic-Tac'-shaped UAP.
The UAP does not appear in Sol 2438 photographs taken a few seconds before and after the one featured here, which may indicate the object was moving at high speed.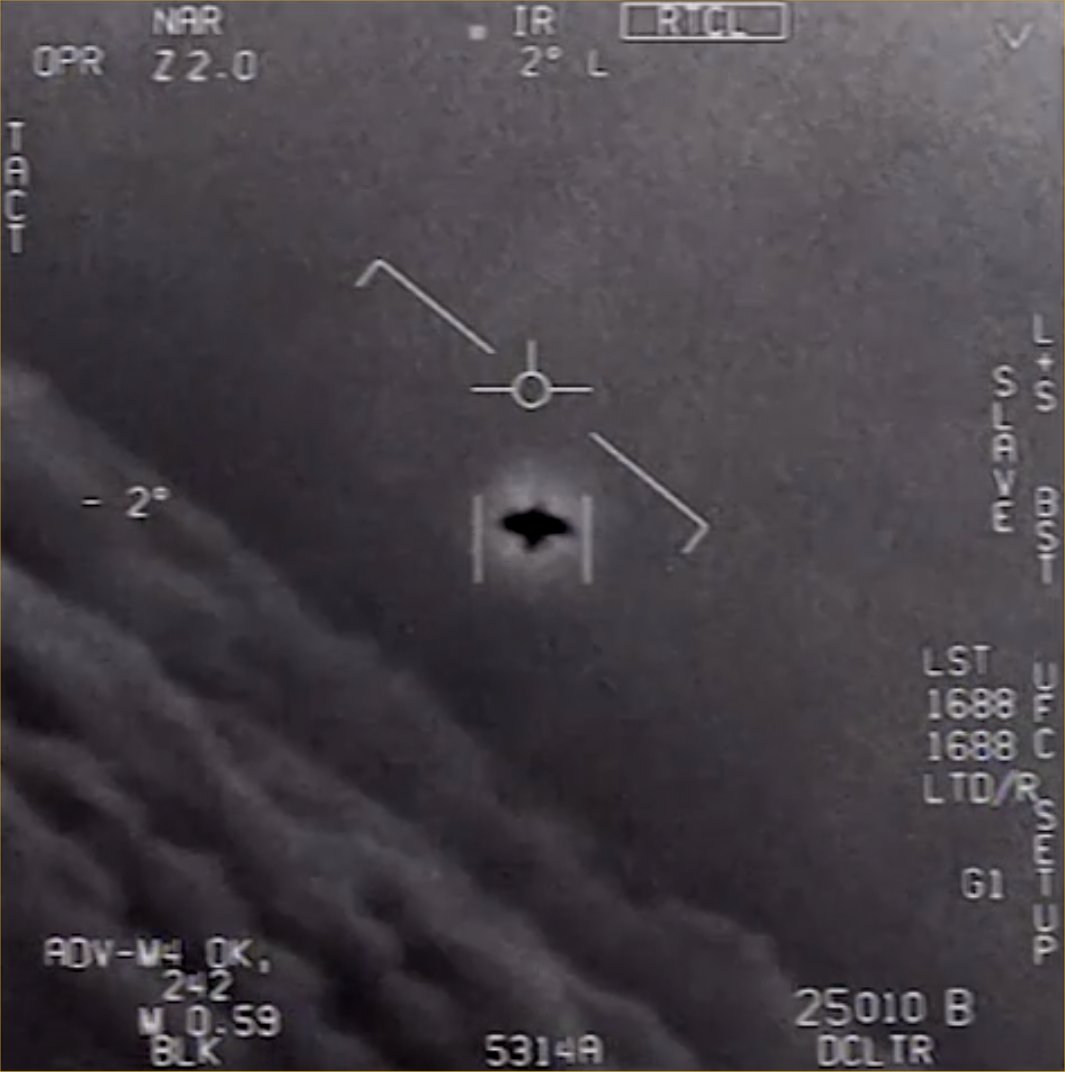 Original NASA links:
https://mars.jpl.nasa.gov/msl-raw-images/proj/msl/redops/ods/surface/sol/00688/opgs/edr/ncam/NRB_458574869EDR_F0390444NCAM00295M_.JPG
https://mars.jpl.nasa.gov/msl-raw-images/proj/msl/redops/ods/surface/sol/02438/opgs/edr/ncam/NRB_613927069EDR_S0760832NCAM00595M_.JPG
Links to all the other reference material:
Glowing Auras and 'Black Money:' The Pentagon's Mysterious U.F.O. Program:
https://www.nytimes.com/2017/12/16/us/politics/pentagon-program-ufo-harry-reid.html
Eisenhower's Farewell address and warning about the Military Industrial Complex (MIC):
https://www.youtube.com/watch?v=OyBNmecVtdU
Major Donald Keyhoe interviewed by Mike Wallace (1958) on General Douglas MacArthur: "The next war will be an interplanetary war. The nations of the earth must someday make a common front against attack by people from other planets. The politics of the future will be cosmic, or interplanetary."
https://www.youtube.com/watch?v=Ei9tgxqYCaI
Warning by the late Wernher von Braun:
https://exonews.org/wilileaks-document-suggest-that-wernher-von-braun-tried-to-warn-us-about-a-fake-alien-invasion/
President Trump on Industrial Military Complex:
https://www.youtube.com/watch?v=wbf43j_GLs8
Trump says he's directing Pentagon to create a new 'Space Force' ('Space is a warfighting domain'):
https://www.washingtonpost.com/news/speaking-of-science/wp/2018/06/18/trump-says-hes-directing-pentagon-to-create-a-new-space-force/
The Gary McKinnon Interview (2015):
https://www.youtube.com/watch?v=SsfrmTXuw1Q
Hacker used $35 computer to steal restricted NASA data:
https://www.news24.com/World/News/hacker-used-35-computer-to-steal-restricted-nasa-data-20190625
Arctic UFO Photographs, USS Trepang, SSN 674, March 1971:
https://www.theblackvault.com/casefiles/arctic-ufo-photographs-uss-trepang-ssn-674-march-1971/
My YouTube video featuring 'Another 'Tic-Tac'-Shaped UAP Spotted on Mars:'
Subscribe to my YouTube channel and turn on Notifications to receive updates when I upload new video's.
Links to all my other sites:
https://www.youtube.com/JeanWard (Mars anomalies)
https://mars.raptorzone.co.za (Mars anomalies)
http://www.raptorzone.co.za (my website)
http://wxsat.raptorzone.co.za (weather satellites)
https://twitter.com/raptorzn_ (@RaptorZN_)
https://www.facebook.com/JeanWardMarsAnomalies (Facebook)
http://blog.raptorzone.co.za (social and political issues)
Contributions (Patreon and PayPal):
I highly appreciate your contribution. Your contribution, no matter how small, will assist me in with administration running my YouTube Channel, Blog, Twitter and Facebook accounts and it will help cover my running costs/overheads like Internet fees (connectivity and hosting) and logistics.
I spend tens of hours researching, creating presentations, videoing and editing videos every month.
Your support is very highly appreciated.
https://www.paypal.me/JeanWardYouTube
https://www.patreon.com/JeanWardYouTube
DISCLAIMER: Many or all of the anomalies/artefacts covered in this presentation may be naturally occurring geological features caused by some type of geological processes, however due to the lack of specific information from the source we can only speculate whether these are all natural or some artificial in nature.
In cases where I say an anomaly looks like something I'm attempting to clarify what I see and not specifically that the anomaly is what I say it looks like.
My intention is only to share anomalies I've discovered on Mars and not to convince anyone that there is or was a civilization on Mars.
As Will Farrar from WhatsUpInTheSky says: "I see what I see, you see what you see."
FAIR USE NOTICE: This presentation might contain copyrighted material, the use of which has not specifically been authorized by the copyright owner/s. RaptorZone Mars Anomalies distributes this material for the purpose of news reporting, educational research, comment and criticism, constituting Fair Use under 17 U.S.C § 107. Please contact RaptorZone Mars Anomalies with any copyright issue/s.